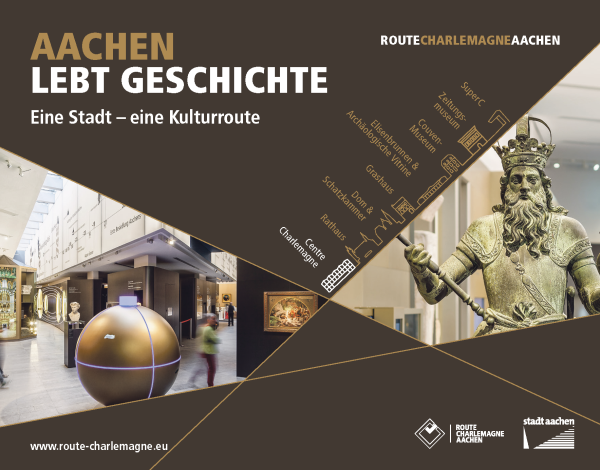 Charlemagne and Aachen:
Stories and legends
Discovering Aachen
The Route Charlemagne runs through Aachen's unique cultural heritage, Charlemagne's palace at the heart of the historic old town. The midpoint of the Route, the Centre Charlemagne on the Katschhof, brings the story of Charlemagne and the history of Aachen vividly to life. It is located between Aachen's two most prominent historic buildings: the Cathedral and the Town Hall.
Themes that link our present times with those of Charlemagne
The other stations along the Route Charlemagne are also outstanding locations in the heart of Aachen. They focus on themes that link our present times with those of Charlemagne: History, Science, Power, Religion, Media, Economy and, last but not least, Europe.
Stations and themes
The stations of the Route Charlemagne and their themes are: the Centre Charlemagne as the central starting point (History), the Cathedral with its Cathedral Treasury and Cathedral Information (Religion), the Town Hall (Power), the Grashaus (Europe), the International Newspaper Museum (Media) and the futuristic service centre of the RWTH Aachen University, the SuperC (Science).
The route also comprises several further stations like the Couven-Museum and the Elisenbrunnen with its Elisengarten and the archaeological showcase.  
Info Centre of the Route Charlemagne
The central starting point of the Route Charlemagne is the Centre Charlemagne, the new city museum located on the Katschhof between the Town Hall and the Cathedral. Here, visitors can get detailed information about all the stations and sights on the Route Charlemagne.
Fascinating insights into Aachen's art, culture and science – the Route Charlemagne Guide leads you through the eight stations of the Route Charlemagne.
Available for 9,80 Euro in the Centre Charlemagne, Couven Museum, IZM, Ludwig Forum, Suermondt Ludwig Museum, aachen tourist information and in the bookshops Mayerschen Buchhandlung and Buchhandlung Schmetz am Dom.